I don't even know how to feel today, Boo. But then I guess that's becoming my new normal. I don't know how to feel any day. Christmas Eve was very difficult. Christmas Day was a little easier. It helped both days that we were all together – your brothers and Chris and me, and now Renee. Grandma and Grandpa were with us for a little while on Christmas. It helped that we stayed busy, that there was sunshine, that we opened gifts, ate, laughed, went to see a movie, stayed up and played games. It is impossible to describe the feelings or moments we walk through to someone who does not live in grief. I feel relieved to see my other children laughing and happy, and I of course feel happiness for them in those instances. I also feel as though sometimes I am looking in on still frames of milliseconds of time as they pass by in front of me in silent, slowed down untouchable pieces of art, like something out of The Matrix movie – and I can't help but notice, even in the most perfect moments, the spaces in between. The emptiness. The holes where you should be.  Even in those perfect moments, I forgot to even take pictures.  I felt so bad afterward.  I just felt frozen, watching.
There were many good and perfect things about the day.  But it was impossible not to think about you and all the shoulds.  Shoulds everyone else hates me for feeling.  I think I am the only one who isn't in the "anger" stage yet.  Or maybe I am.  Maybe I'm just angry at myself, at life, maybe even at God – instead of at you. Everyone is mad at you and I'm supposed to understand.  I do, mostly.  But they don't have to understand that I am just in awful grief and I cant help it.  Joy eludes me.  Joy is something I don't expect to feel again for a long, long time. Until we're all back together again really. So I settle for snatches of happy moments or contentedness. I have stopped trying to hold onto them, to hold onto anything. Perhaps I have given up on the illusion that I can. Perhaps I lack the strength to do anything right now but just be. I hope that my children will heal enough to still feel joy in this life. But as the shock is beginning to wear off, and the swamp of depression feels more and more difficult to climb out of, I am realizing that some of us are less okay than we have pretended to be for each other.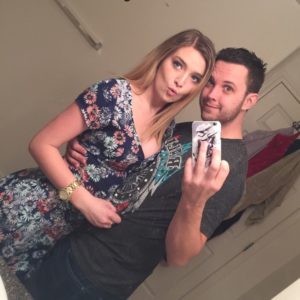 I remember the kind-hearted funeral director putting an arm around my shoulder after everything and saying, "One thing I've learned in all this that is the most difficult thing for parents, and the most destructive – don't "should" on yourself. I liked that you kept her service so positive and hopeful. Try to find some peace." I also have heard from God over and over again that if you were supposed to still be here, you would be, Sis – that you're still with us, and that you can still do everything – to stop telling myself that you didn't get to do this or that or that you "should" be doing what I think you should instead of what God thinks you should in this moment, and to keep an eternal perspective. I know.   I know that is all true. I feel you with me, with us, still – it keeps me breathing and I am immensely grateful for that gift. I believe in our Savior and I believe in His Atonement and power to heal us. I just wish I wasn't so human and that it wasn't so difficult.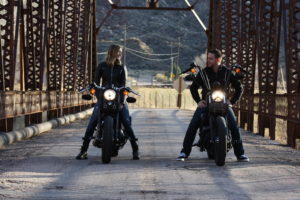 It feels like there are so many endings right now. This has been probably the worst year ever. Not probably.  It has been.  After so many other things we've been through as a family, I never believed I'd say that – but nothing will ever compare to losing you. There can never be another year this bad. We are also realizing we have to let go of some other things. Chris and I are realizing we can't hold onto everything in your absence, to every particle of you.  We can't do everything we want to. The money, time, energy, love – there just isn't enough. We've realized we probably need to sell your bike, the harley. That is hard, because we both remember you being excited to get it, and there are photos of you on it that are so beautiful and precious. But we both know you never loved it as much as you loved your old beat up bike – and Chris restored that one for you, so beautifully. He will keep that one. And we need to find a new home for little Po. She's a baby bird who will live a long time and she needs a happy family who will love her and give her lots of attention. She needs children to grow up with, like our Jack did. And Rascal. I feel so bad that I am somewhere where I can't have your dogs now. I've tried to do everything to help Chris. But 3 dogs, when one can't get along – and Chris has to work all day – they are unhappy. He will keep Carl and Trevor, your babies. I just pray you help us with all this. I feel like it's admitting defeat. I feel scared. I want to save everyone and everything. But we're drowning, treading water with all of it – so are they. I want to be rich. I want a magic wand. But then if I had one – money isn't what I would ask for. I would bring you back instead. I would give up anything and everything to get you back.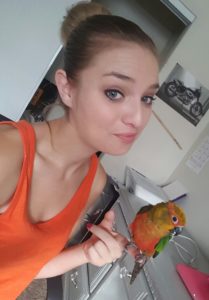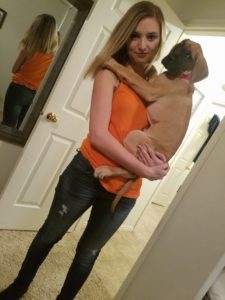 Part of me is so relieved that this horrible, awful year is finally coming to a close. And part of me feels this sick, sinking feeling at seeing it end. Because I realize that this is the last year you were with us. Your monument, your obituary, everything says 2017. Kimberly Ann Montoya 1996-2017. How is there a period at the end of my little girl's life? My beautiful, vibrant daughter. It is still surreal to me. That is when your earthly life ended, Kimmy. That is when you left us. You last rang in a new year in 2017.   You were planning a wedding. You welcomed a litter of puppies and found them homes. You got your puppy, Carl, who is now bigger than a grown man (or a small car maybe). You celebrated your last birthday, smiled your last smile, laughed your last laugh, cried your last tear, signed your last signature, spoke your last words, took your last ride, sent your last text, made your last phone call, your last facebook post, gave your last gifts, woke to your last day, saw your last sunset, and took your last breath . . . in 2017. It was the last time any of us got to see you, to hold you, to hug you, to tell you that we loved you. When it ends, we start a year without you. A year you will not see. 2018 is the first year in 21 years that your beautiful soul will not grace the earth. We still have 4 more months of milestones before we get to the one-year mark.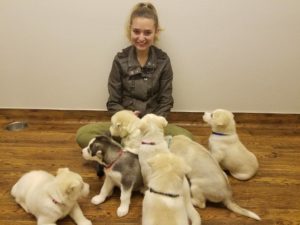 We will make it. Because we have no choice. None of us got a say in this. Even as I write that, I know that is probably not true. I know we all knew before we came here what our plan was together and why. I certainly wish that I could remember it now. It will bring me a great deal of peace when I can do your temple work in May. That is something that keeps me going. I know our family is forever, that you are with us, and that in the eternal sense everything is fine. That does bring comfort. Immense comfort. I know you are in heaven, with your loving heavenly parents, and family who loved you on earth as well.
Sometimes I have moments when I think that I wish you could have stopped and seen the empty spot that would be left here on earth without you, or the hole in so many hearts, or how much Chris loves you and misses you, or your fur babies watching for you, or your brothers who don't know what to do without your anchoring influence, how sad your friends are, or that I measure the days by whether I go minutes or hours between breakdowns and how well I manage to hide them, or how we all miss the way you laugh, your guidance, your brilliance. I think that if you could have stopped and just seen for one millisecond the wound your absence would leave, and how very, very much you were loved – that you never would have left and you would still be here. And then I realize that is, of course, true. That you weren't thinking, or feeling, or seeing anything. That if anything could have been done, it would have been. That God is in charge, not me. Someday, I will have all the answers.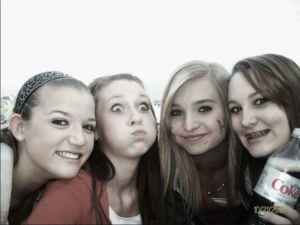 I know you want me to maintain hope, and that I have to hold onto it for everyone else. I know that we have an angel and that the blessings you help to send to all of us continue to be amazing. We see little miracles all the time. I pray constantly that the other people who love you and are hurting so much will feel you as closely as I do, and see all those miracles. I know that I choose to be here, and that I need to be, even though it would be easier not to. I know that there are reasons you are there and I am here. I'm trying to be strong, Sis. I really am. You have always been a great source of strength and joy. Every time I think of any tiny regret I hear you or God tell me to let it go. I know you are in a beautiful, love-filled place and that you are the most incredible, brilliant, beautiful angel. A friend told me a couple of days ago that she knows you want me to try to feel joy, and that she saw you playing with all these baby piglets, laughing and happy, that you were trying to send me a picture of joy. It made me smile.  You still make me laugh. You always have. And I still have other people reach out to me constantly to tell me about experiences with you, either before you left us or after. They are very reaffirming to me.
And I know you haven't left us. I know you're still here. I know, Boo. Some days are harder than others. As usual, this is raw, real, and unedited. I have to go to church and avoid talking to people now, so I can try to feel closer to God and to you. Ironic how I just have so little energy for people I don't know, who don't know me – or you – I just crave peace. I can do it at work, but not when I don't have to. And I have no tolerance for drama or pretense or, I don't know – all the things God tolerates in all of us all the time, I suppose. I need to do better. Love you, Kimmy. I know there is no period at the end of your existence, and I am so grateful to know that you live on. Please stay close. To all of us. We all love you.