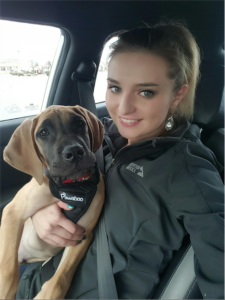 Another tenth, Kimmy.  I did something I haven't been able to bring myself to do in a while.  I glanced back through a few of your texts.  Last year on this date, in the morning, there are little bubbles that say:
"Happy Birthday, Mom!"
"Thanks, Boo.  Love you."
"Love you too."
You sent me a picture of you and Carl, my newest grandson.  (I had just barely figured out that you weren't joking about adopting another puppy).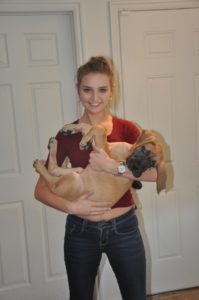 Everyone laughed at your funny words, and told me how beautiful you were.  You are.  One of my favorite pictures is still the one where you look like a new mom, who's been up all night with her baby.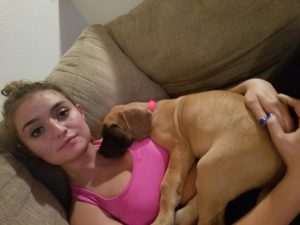 Or both of her babies.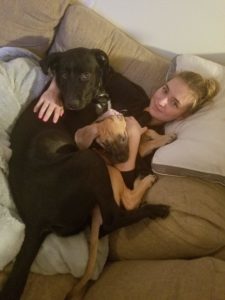 I was at Instacare this week with Ryan when some young, new parents brought their baby girl in.  I wasn't trying to eavesdrop.  I wasn't really even paying attention.  Until I heard her daddy give the receptionist her birth date – it was in June – and say that she was seven months old.  It suddenly struck me that she had been here less time than my little girl had been gone.  I watched them go sit down, take her out of her carrier, fuss over her . . . It was apparent that she was their whole world.  Funny how in seven short months such a tiny little person can have your whole heart and soul wrapped up and sealed forever.  Of course, I know from experience that it doesn't take seven months.  It takes less than seven seconds, and really – for a mom anyway, for me – it started before any of you were born.  I couldn't help but stare at that baby and think about the fact that she was where you were more recently than I was.  Such a strange, surreal feeling.  She was cute and sweet, as most babies are.  But she had less hair at seven months than you did when you were born.  You were such a beautiful, precious, sweet little baby, Kimmy.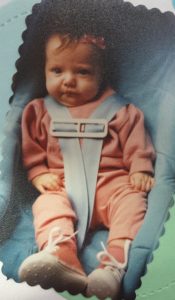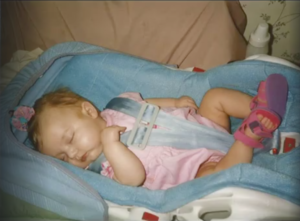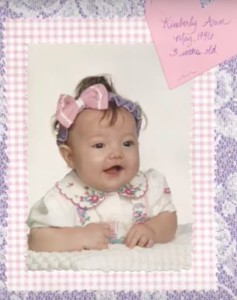 Today was a happy day at work.  And with your brothers, and Chris, and Grandma and Grandpa – with family.  Everyone did sweet, kind, thoughtful things.  I appreciate tiny moments more.  I am more grateful for blessings, big and small.
I know you're always there.  But you are always so missed.  I suppose it's maybe like knowing heaven is there, but that feeling you sometimes get of missing it at the same time.  We feel your presence, your comfort, your help, your love – your soul.  All the time.  But we miss hugging you, hearing you laugh and looking into your beautiful blue eyes.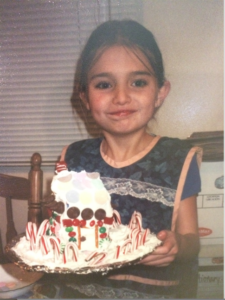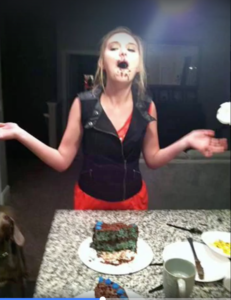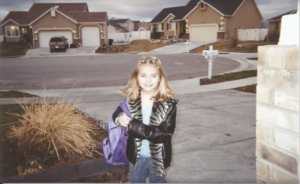 I have so many memories of so many sweet things you did on my birthdays for so many years.  You especially tried so hard during what I thought would be our hardest years (little did I know) to plan fun things, to make me happy.  It's not that I care about my birthday.  In fact, I wish I could cancel them at this point.  It's that I wish I could go back and forget everything but you and your brothers, and the thoughtful things you did and just soak up every second – just hug you and love you and tell you what an amazing daughter you are, at every age and stage.  Especially during that difficult time when you were trying so hard for me.  I knew all that mattered was my children.  I tried to tell all of you that.  But I wish I could go back and forget the stress and just relive every moment with you.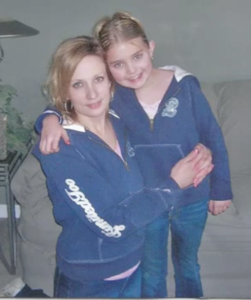 I have to remind myself that we have forever.
And now . . . your birthday is right after mine, the beautiful bright spot at the end of what has always been the most depressing month of the year.  (Although that may be arguable now.  Who knows?  It all runs together anymore).  I always told you that I got your birthday out of January – it was pretty close.  February 1st.  Your birthday was always something to look forward to, as the beginning of the end of winter, the hope of spring.  The celebration of my baby girl being born.  Valentine's Day and hearts and pink were everywhere, which made you happy.  Pretty purple amethyst is your birthstone.  And you were always the light at the end of the tunnel.  That will be a more difficult day than this.  We often celebrated you and Grandpa together, and he is on the 10th again.  The truth is, there's never going to be an easy month.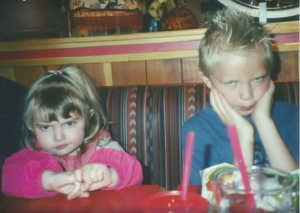 Trust in the Lord with all thine heart; and lean not unto thine own understanding. (Proverbs 3:5)
I don't even know what else to say, Kimmy.  My heart is too full to talk.  It has become apparent over the past several months that our eloquent mortal words are pathetically inadequate at describing things of the soul.
Good night, baby girl.  Love you.