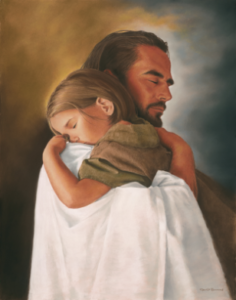 I try to post something on, or close to, the tenth of every month, Boo. But this month, I just seem to come up short on words. I'm not sure how a heart can feel so full and so empty at the same time. I don't have the tree up yet. I will get it put up – for Ryan, and for Alex and Chad and Chris – and you. I haven't bought one thing for Christmas. None of us really want to celebrate this year. We just miss you. It doesn't feel like Christmas without you. I can't imagine that it ever will again.
At the same time, memories fill my mind and heart. Memories of all the Christmases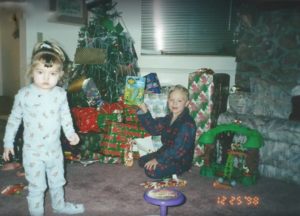 with you – sweet, beautiful memories. I loved Christmas when my children were little – loved the excitement, loved doing things with all of you, getting ready for Christmas, the anticipation you all felt, the joy, the love. Even the years when things were hard, when we were poor, when our family was going through hard things. We always had each other – my children and I. I have always been so grateful for all of you. I still am. I always will be. And while I can find little joy in shopping or festivities – my heart is drawn to the deeper meaning of Christmas, the sweet peace of our Savior and what His birth, and life and death and resurrection mean for us. My thoughts are drawn to heaven and things of eternity, and my soul is filled with gratitude for you, for our family, and for the assurance that families are forever.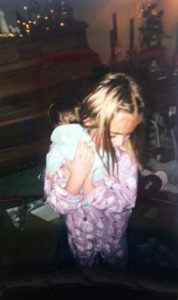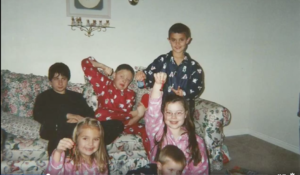 It was a little warmer today. And during daylight hours, when the sun was out, I took a little Christmas tree, a wreath, a stocking, Christmas flowers, and a nativity scene to your little patch of earth. Ryan and I went back later to light it up for you. It was beautiful.  We didn't take a picture then, just soaked in the peace and felt your presence.  It hurts my heart that I can't buy you gifts to unwrap for Christmas, my beautiful girl. I will save them all up in my soul and bring you a truckload when I see you again. You always loved gifts – receiving them, but giving them even more. You were so thoughtful and planned things out so carefully for everyone you loved. You made things and worked so hard. When you were older, you saved up and bought things. Grandpa used to laugh at you when you were little and say you were so much like Grandma Checketts (Great Grandma to you) because she loved gifts too, and you were both such gracious receivers of gifts. Once when you were maybe 4 years old you opened something and exclaimed, "Oh, thank you! I love it! It's just what I always wanted!" I don't even remember what it was now, but I remember you holding it up for a minute and then asking, "What is it?" Grandpa laughed so hard I thought he was going to cry. But I bet you and Great Grandma will have a lot of fun on Christmas in heaven this year.  More importantly, you get to celebrate Christmas with the Savior Himself. That will be amazing. And I know you will be with us every day until we can hug you again, my sweet angel daughter.
Love you, Kimmy Boo. Always and Forever. We all love you.  So very much.