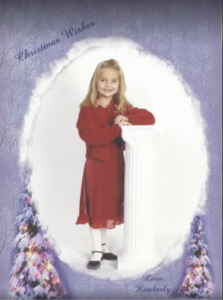 I felt a jolt go through me yesterday when I realized that it had been 6 months since Kimmy's funeral. I got through the date of her passing, but the date of her funeral caught me off guard. Your child's name and "funeral" should never go together in your head. They can't. I feel torn. Part of me still wants to lie down and die every day – a very big part of me. The missing her never goes away. I have grown used to coping by compartmentalizing and staying crazy busy. All this down time to think has been both a blessing and a curse.
I have also had the picture placed in my head continually – probably by my angel girl – of my daughter and the way she took on so many challenging times during her short life. Her music play list is still on my computer. While just thinking of the title stabs me, I still keep being reminded that one of her favorite "no one is going to keep me down" songs was What Doesn't Kill You Makes You Stronger by Pink. During some of her most difficult, frustrating, upsetting times – she would blast that song, clean her room 'til it shone, and dance her heart out. She would reclaim her power that way. Thinking back on it, I'm not sure if she learned that "blast out the radio and clean and dance until you feel better" thing from me, or if I learned it from her – I just know we've both always done it for as long as I can remember. While I'm not quite back into my dancing shoes mode – physically or emotionally – I realize that I am still here, still have things to do, and that I need to get stronger for myself, for my children, and for the people around me. I know that Kimmy is doing her part on her side of the veil, and that I have to do my part on my side. I know that I have a reason to make it to the finish line – because she's waiting there for me.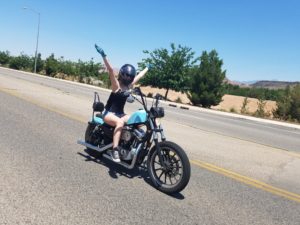 I have said so many times that we receive constant reminders that she is with us. Most of her family and friends share things with me often as well. Sometimes someone asks me how I know that all these reminders are not just coincidences. I'm not always sure how to answer that really. Even though I can't hug her or call her on the phone, feeling my daughter close to me now is the same energy I have felt anytime she was around me for the past 21 years. Parents who have more than one child may be able to relate.  If you have your back to the door and one of your children walks in, you can usually feel which child it is, without ever turning around.  It's still Kimmy when she walks in.  When I hear her voice in my head, it's her voice – not mine – her words, the way she talks, her personality. And I know my daughter. I know how much she loves Chris and her brothers and her friends. I know she would be reaching out to all of us constantly, in any way she possibly could – just like she did when she was a mortal angel instead of a spirit angel – to help us, to lift us up, to cheer us on, to let us know that she is there and that she cares. I just don't even question any little reminder that I get from her – so I get them all the time.
And I don't believe in coincidences. I believe in synchronicities. While I can't convince anyone against their will, I think you deprive yourself of a whole lot of comfort you could be receiving if you choose to line things up as simply "coincidence" or "confirming things you're looking for" instead of recognizing the hand of God and angels in your life, in large and small ways. It goes along with faith maybe. Faith in God, in a power bigger than us. Or even if you're doubting that – just faith in Kimmy. How would she not find a way to make her presence and her love known? How would a God who "knows when a sparrow falls," "arrays the lilies of the field in glory," and "numbers the stars and calls them all by name" not ensure that the world and the heavens that He created were in perfect alignment?
These are just a few quotes about synchronicity:
Synchronicity is being in alignment with divine time.
http://www.ask-angels.com/spiritual-guidance/synchronicity-awakening-to-the-divine-nature-of-time/
The word "coincidence" is understandable for mortals to use, but coincidence is not an appropriate word to describe the workings of an omniscient God. He does not do things by "coincidence" but . . . by "divine design."
https://www.lds.org/general-conference/2017/10/by-divine-design?lang=eng
Connections and synchronicities are always there – whether we can spot them in the moment or not. This is a Universe where there are no accidents.
https://www.drwaynedyer.com/blog/tag/synchronicity/
Signs from Heaven
http://www.ask-angels.com/spiritual-guidance/signs-from-heaven/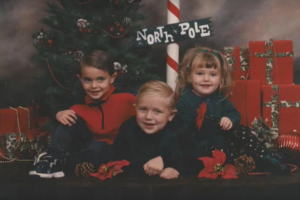 Yesterday, on that so yucky day, I didn't feel well enough to be out and about much, but I felt stir crazy. I finally started going through some of Kimmy's pictures and things I have left sitting too long since pulling things out to try to hurry and make her funeral beautiful. I've left them sitting for six months, to be exact. I was thinking how much I was dreading the upcoming holidays – I can't believe we are almost to Thanksgiving, and then we have to get through Christmas, and I need to be a mom and try to pull this off for my other children, but how in the world are we going to get through any of this without Kimmy? I couldn't help but remember all the other years – shopping for my little girl while she was growing up – how we used to love Christmas, it used to bring so much joy instead of pain and dread. I thought of later years, as a single mom when we didn't have much money but how sweet and good Kimmy was, how kind and generous she has always been.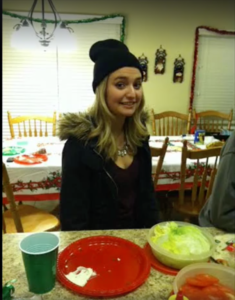 My heart nearly broke thinking about how last Thanksgiving Kimmy wanted us to go down to St. George and spend it with her and Chris. She had to work the day before and the day after so they couldn't come up. I wanted to go – so much. But Ryan had started his first job and had to work on Thanksgiving Day, and I felt too bad leaving him. I knew they would be up for Christmas. If I could only go back and just go spend the day cooking with her, and laughing, and talking, and hugging her and soaking her in – I would give anything. But I didn't know. I thought we had 40 more years. I thought about this past Christmas, the joy when she finally arrived back home, how she and Chris gave me a beautiful set of pans because I was still using the ones I'd had in college, her telling me about going to get them on Black Friday, how excited she was to give them to me – she wrapped them up beautifully and wanted me to open them early. I thought about always trying to find her the perfect comfy slippers, how I never dreamed when I tried to pick out perfect crystal earrings she would love for Christmas that we would end up burying her in them in May, and just the horrible hole that is going to be so apparent in our family and in our hearts this year – and every year from now on. It felt unbearable. Beyond unbearable.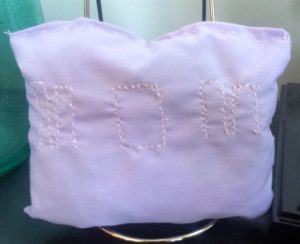 I simply don't know how I'm going to get through it. I started talking to her about it, asking her to give me strength, and of course – crying. I came upon a little pillow she made for me when she was probably 9 or 10. She made sure that it was my favorite colors – lavender and pink, crosstitched "MOM" on it in beautiful careful stitches, and sewed it all herself. I kept it on my writing desk for years and we displayed it at her funeral, with some of the other things she had made. This is my sweet, thoughtful, tender little girl. That was enough to make me bawl, of course, and know that she had heard me. She used to work so hard to make gifts for everyone every year.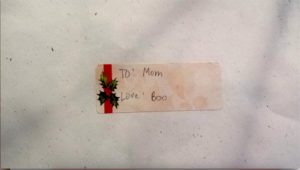 But then I found something I didn't remember seeing when I had gone through her things in May. It was tucked in between two picture frames – an envelope that said, "To: Mom, Love: Boo." A Christmas card, also from when she was a little girl. She had stamped it, and written in it, and colored it, and signed it, and told me that I was the best mom in the world.  And I knew that it was her way of telling me that she is here, that she is with us, that she knows Christmas is going to be hard, but she's right here and she loves all of us. I know she meant the message now as much as she did then, and she knew I needed to read it.  On the outside it said, Wishing you A Joyous Christmas and a New Year of Peace and Happiness.  And on the inside, in her precious handwriting, it said, Dear Mom, Merry Christmas!  I love you!  You're the best mom in the world, that's a fact!  I know it.  Hope you have a wonderful Christmas!  Love, Boo  How did she know I needed to hear those words even more today than I did 13 years ago?  Because she's my daughter, and she's an angel, and she's still with me.  It gave me a huge dose of strength and reassurance and felt almost like a hug from her. And it was not a coincidence. It was a gift. From my beautiful angel girl. Who I am so, so immensely thankful for. I will get through Thanksgiving because of all that I have to be thankful for.  And we will get through Christmas, because it is when we celebrate the birth of our Savior, and we will remember what I said in my last post – that because He lives, we know Kimmy lives and is ours forever.  So Merry Christmas To: Boo  Love: Mom  So much love, Kimmy.