I had an interesting dream about Kimmy last night. Most of the dreams or experiences I've had since she transitioned have been too sacred to share, except maybe with those closest to me, or with someone she gave me a specific message for. This one was very different from others I've had. It is still sacred to me, but I feel that it needs to be shared. I'm sharing it mainly because I feel like it might be somewhat comforting to her close family and friends, as some of these posts are. Take it as you will, and feel free to ask God or Spirit for your own confirmation. My goal is never to convince anyone of anything – except maybe to convince them of their own worth. My goal is simply to share the meaning and purpose in my daughter's life that might somehow help someone else. And to convey the message that everyone is a gift from God and has a reason to be here.
I'm not going to include every detail of my dream, but the parts I feel are most relevant. As I've actually written it down and gone back through it, it does feel pretty incredible. Part of me feels hesitant to share it, but I keep feeling like Kimmy would want me to. I feel like this was meant to be shared with people she loves. So I am sharing it. I realize people not as close may also read this post – maybe it will help some of them as well. If not, anyone is free to dismiss it. But please don't read it with an attitude of anything other than care and respect. Part of raising awareness about suicide and self-worth, for me at least, means raising awareness of a bigger plan and a larger purpose – that there is life before and after our human experience, and we receive confirmations of that more often than we know or sometimes will admit. Sometimes it is not appropriate to share those things. But sometimes proof of heaven is needed to offer hope and understanding. Sometimes we need to share. Here goes:
I was walking down a path – a dark path – and then I met Kimmy in a busy, open area like an outdoor shopping center. The sky was overcast. She was wearing her red flannel shirt and sunglasses. She hugged me and said, "Hi, Mom!" Obviously, I was thrilled to see her, hugged her tightly, said hi back, and wanted to ask her a million questions. I was wondering where we were, what we were doing, why we were there, and trying to soak in every possible detail. She was wearing a white T-shirt under her red flannel shirt, jeans, her black high-top tennis shoes, and carrying her tan cross-body bag (yes, I have to use the correct terminology – if you know her, you know). She was wearing her hair pulled up in a messy bun with silver hoop earrings. Her fingernails were painted blue. Every detail was Kimmy – she looked just like herself. Felt like her, smelled like her, sounded like her, laughed like her – she was entirely real.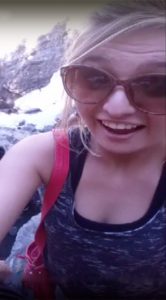 I paid far less attention to the surroundings as I tried to keep up with her. I was following her in and out of crowds of people, trying to soak in all the details of her and not lose sight of her, while still piling up lists of very important things I wanted to ask her, things I needed to know – I had no idea how long I had with her.  The weather felt cooler, slightly humid, but not unpleasant. The sky was gray. I saw mountains with lots of pine trees in the not-too-far distance, and water. It was not anywhere that either of us had been before, but the closest place I can compare it to where I have been is Seattle – shopping on the pier in Seattle.  I wasn't sure if we were on earth, or in heaven, or somewhere in between. It didn't feel like any of the images of heaven I've felt before, but I didn't know why she would be on earth, or why we would be in a strange place. It almost felt like an in-between sort of place.
I wanted to ask her if I was dreaming or if this was real. When I have seen her before I have been very sure that it was real. This time felt hazier, unsure, on the edge of two worlds – I just don't know how to describe it.
She grabbed my arm and began pulling me into shops or stopping at vendors and just started chattering about daily things – and we were suddenly just shopping. It was like any other time we had gone shopping together – on the surface. We were walking and talking about everyday, silly little things, and laughing, walking in and out of stores, looking at things, touching things, admiring things. I could see every detail of her, but I have no recollection of what I was wearing or carrying with me, or what my hair looked like, or anything – which is strange, now that I think of it. And the entire time in the back of my mind I kept thinking that I didn't want to ruin it – I didn't want to interrupt her happy chatter or miss something she had to say, or a thought she had, or a look on her face, or watching her smile and be happy or anything – but I kept waiting desperately for a pause, or for her to stop and tell me why we were there, or why she was there, or for a serious moment to ask her if she was real, or if the entire experience was real, or how I was supposed to get through the rest of my life without her, or a million other horrible, daunting questions . . .
It felt like the dream went on for a long time, and the longer it went on, the more tortured I felt, realizing that it wasn't real, knowing that it was going to end, and feeling more and more desperate to ask her if she was okay, or if she knew how much I loved her, or when I would see her again, or what I'm supposed to do, or how to help her brothers and her fiancé, and her friends, or so many, many overwhelming things. I started to wonder if she was testing me, or if she just didn't know somehow in that space that she had transitioned to spirit and I had not and that this wasn't real, or if I had just finally lost it completely and was hallucinating.
I was feeling increasingly stuck in my brain, more tormented, and starting to feel less aware of the things around me when I heard Kimmy say, "Mom? Mom? I said, Do you like it?"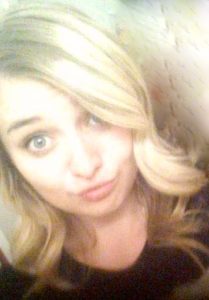 "Do I like what?"
We had stopped at a make-up cart – Kimmy loves make-up. It's funny how she is a bargain shopper on so many things but she loves expensive make-up. I was thinking about her telling me in one of our last earthly conversations how she asked Chris to go in the make-up store to get her some foundation, and how then she had to go to the gun store with him to even things out – it made me laugh at the time and I said, "See? You guys have it figured out."
I snapped out of my reverie and looked at her. "It's the coolest foundation ever," she said. She had just completely redone her make-up in like thirty seconds, so I knew that was either dream-state time or heaven time. Funny – I was this aware during all of this and can recall all of these details now. So there was more to this than a nonsensical dream.
Her face looked like porcelain. "Wow. That is cool," I told her. But then I looked at the price tag and almost had a heart attack. "Kimmy, it's eighty dollars! I can't pay eighty dollars for a bottle of foundation, no matter how cool it is . . . and I don't think I would pay that much even if I were rich."
She shook her head and put the bottle down. "You've got it all wrong, Mom." She looked at me and I thought how beautiful she was. I realized the porcelain skin wasn't the foundation – it was just her. She looked just like my daughter, but even more beautiful and perfect than I've ever seen her. She had taken off her sunglasses when she redid her make-up. Her skin was flawless; her cheeks were just tinged with pink, like when she was a baby. She was wearing her shiny lip gloss and I realized how long and dark her eyelashes are and how blue and mesmerizing and wise her eyes are, how full of light her entire being is – and I just stood in awe, looking at her. I didn't feel confused anymore. There were still people moving all around us, but it was like none of them could see us.
Kimberly said, "You can have anything you want. All you have to do is believe that you can have it." What she did not know – or maybe she did – was that I had been stressing out about money and how to handle things and what to do about some things the night before.
She kept talking. "Money is an earthly thing that we build all this stress around. It's just energy – that's all it is. And we're in charge of it. It obeys us. Pay your tithing – that's a rule for you, Mom. You know it is, and you know you get blessed if you do it. But things don't have to be hard. All we have to do is remember who we are, and everything works. You kept telling me that. It's true, Mom. Remember who you are, and everything you need will come to you. There is nothing to worry about." I do have to say that my daughter has always been a brilliant manifester. She created anything she decided to.
I was still staring at her. I'm sure she sensed what I was thinking, because she picked up the bottle of foundation and said, "You're worth eighty-dollar foundation, Mom." Then she smiled and said, "Just like me." I can't tell you how healing it is to my heart to feel my daughter feel her worth. There is no arrogance anywhere. Arrogance is putting yourself above another, and really comes from a core of low self-worth. Kimmy recognizes her divinity again, remembers who she is and where she came from, has absolute confidence in herself, and only desires to share that same confidence and love with others – my little girl is the woman she was born to be, and I love it. It is difficult to accept that she is in heaven and not here, but I am so grateful for the many gifts of spirit that I receive from her and from God.
She told me, "Things are so different here. We just have everything we need and it's all peace. There's nothing wrong with having something wonderful or beautiful. As long as your focus is on God and the Savior. Everything here is beautiful." She waved her arm around.
I was still confused about exactly where we were, although I could tell that she was talking about heaven, but she told me it was time for her to go. I felt panicked. I said, "Wait! But I have so many things to ask you! We just spent all this time . . . Kimmy, I'm confused. Why did we just spend all this time shopping?"
She gave me her pouty look, on purpose. "You didn't want to go shopping with me?"
"Well . . . of course I wanted to go shopping with you! I want to do everything with you. I miss everything, Sis." That's when I started to cry. I told her, "But I can't. I can't, Boo. You're gone. I can't do anything I want to do with you. So if I only got to see you now, it just seems like we should have talked about some important things . . . or something. I have so much to ask you."
Kimberly's sweet face looked sympathetic and she said, "What do you need to ask me?"
When she said that, I had so many urgent questions in my head that my mind drew a blank. Where would I even start? I finally blurted out the most important ones, the ones that run through my head and heart constantly and keep me up at night, even though I've heard her confirm the answers for me repeatedly. "Are you okay . . ?  Do you know that I love you?"
This was funny. I could see her human side want to burst out laughing and her angel side filled with empathy that made her want to cry. The mixture in her face and eyes was both amusing and heart wrenching. "Mom," she said in the same tone she would have said Seriously? in as a teenager. "Do I look okay?"
I started to laugh and cry and hugged her close to me and felt her hair on my face and her arms around me and her heartbeat. I felt her beating heart. I don't know how that works, but I felt it. And then an even more amazing thing happened. In a single moment, I saw and felt a million moments from her life flash through my mind and heart – through my eyes and hers at the same time. I don't even know how to describe the experience. It wasn't earthly. From the moment she was born through the moment she transitioned – I saw memories I had long since forgotten. I saw and felt myself holding my baby girl in my arms through my eyes – this tiny little angel I knew and had waited for so long, but I also saw it through her eyes, her looking up at me and her memories of heaven and wonder and recognizing me and how much she loved me. It was like a movie played through her entire life like that – moments big and small, but I saw and felt it from both viewpoints, and even at the end I was with her – she felt it and I felt it. Even though I wasn't physically there, my energy was. I was with her in spirit – she felt me with her. Angels were with her. She didn't die alone.
Kimmy said, "I always knew you loved me, Mom. I knew you loved me more than anything and that you would do anything for me. But after I came back here, and saw my whole life and felt all those moments through your eyes – that was when I really, truly felt how much you loved me, and how much I loved you too . . . Yes. I know how much you love me. Thank you. I'm so glad you're my mom."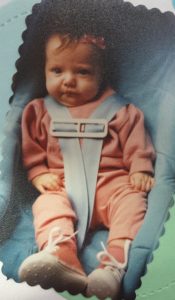 I can't even say what it meant to hear those words from her, dream or no dream.  I feel so grateful that she is my daughter, but I have felt so afraid that I failed as a mother.  My children have been through difficult things – things children should not have to go through.  But I tried very hard to make their lives good and happy, to be a good mom, to give them what they needed.  There is a peaceful reassurance in being reminded that there is a plan – that we chose each other, that we all knew what we were signing up for and why.  I have said many times that as horrible as it is to lose her, if this is what I have to go through to be Kimberly's mom, then I will do it – because she is the daughter I want, the one I want to be with forever, and I will do whatever I have to do in order to be part of her story and her plan.  There is one particular photo of her as a baby that comes to me over and over again – she is looking at me with such a serious expression, like she understands everything.  I remember taking it, and watching her look at me, like she was trying to drink me in and had so much to tell me.  In most of her baby photos she is laughing and smiling.  I think she knew her journey on earth would be brief.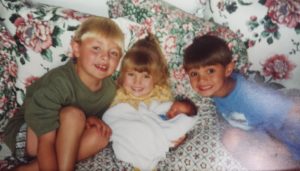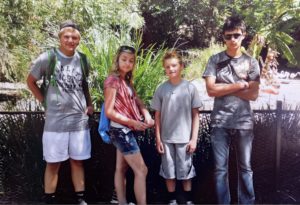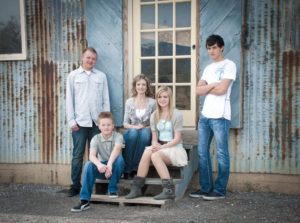 After that amazing gift of seeing and feeling all that, hugging and holding her, finishing crying and then just standing there looking at her, Kimmy said, "What else did you still want to ask?"
I said, "Well, don't you have some advice about life, or what I should do, or how to help –"
She said, "I answered the question you were worried about yesterday. Heavenly Father sent me with that answer for you. I can't tell you everything, Mom. Just remember it's about love. That's all that matters."
After another minute of silence she said, "You're still wondering why we spent time shopping, aren't you?"
I said, "With as little time as I have with you and how precious it is, it seems like shopping wouldn't matter much anymore."
She said, "But we've always loved shopping together. Why would that change?"
I'm not going to lie – I was feeling pretty confused again.
My sweet girl just said, "Mom, the material things don't matter – you're right. People matter. Love matters. Jesus matters. But God is right here for you – for everyone. He will answer any little thing for you, any time. Because He loves you. I am still right here, for all of you. We have more time, Mom. Not less. We were together in heaven before, and we will be together in heaven again. We will still do everything we love to do, and find new things to do. We'll still go shopping, and decorate, and go on hikes, and play with the dogs, and try on clothes and find make-up, and play games and ride motorcycles – along with helping people and learning new things and taking time to appreciate nature and do whatever Heavenly Father asks us to do . . . and this won't be the only time you see me. I'm with you all the time. Just relax and appreciate small things. I'm right here."
I realized then that I should have just relaxed and enjoyed every moment shopping with her instead of worrying about questions that suddenly didn't seem so important, or that I already knew the answers to. I also hadn't paid attention to how pretty everything around me was. That just a little way away from the bustle of people there was a beautiful island with stately fir trees, and birds flying above and calling. What looked like a serene ocean was dark and deep. I could feel all the animals and plants on the island, even though I couldn't see them. I thought of my family and just the peace of all of us being together again soon, the peaceful reassurance that we have eternity. Kimmy smiled at me and I realized that was the lesson I was supposed to get from this experience. "I got it," I told her."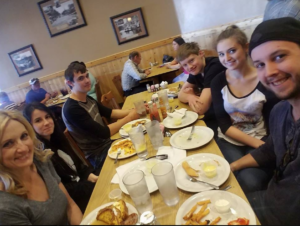 "I know," she said. She waited for a minute and then said, "Are you okay?"
I just nodded my head.
"Okay. It's time for you to go. Okay? You need to go back the way you came. Tell everyone I love them and I'm right here. And to just be happy."
I hugged her again and told her how much I loved her. I saw the sun shining behind her when she waved good-bye and I started back down the path I had entered through. She put her sunglasses back on and made a funny face. I love that girl. And my boys. And the many people I have in my life to be grateful for.
As I've thought more about that dream and read back through this I recognize more and more symbolism.  I won't share it all, but I realize I chose our meeting place, not her.  I walked down a dark path to get to her – because I feel lost in darkness right now.  We were surrounded by people in my dream who we never acknowledged, looked at, or spoke to.  I am surrounded by people every day, but I feel completely alone.  I prefer to be.  I want to be left alone.  The sky was gray and overcast, there was a chill in the air – the way my world feels.  (It's interesting though, that Kimmy was wearing sunglasses – she is in the light now, even if I am not).  It was not a place either of us has been and probably not somewhere either of us would choose to go.  It definitely wasn't heaven.  I know what heaven looks and feels like.  Even so, I missed a lot of the hidden beauty that was there.  And I was so focused on all my worries about Kimmy that even when I was with her again I didn't soak it in and enjoy it – so crazy.  There's more, but that's a little bit.  It is continually overwhelming to me how aware God is of each of us individually, and also how much we create our own experiences.
I slept much longer than I usually do last night, and woke up feeling more rested. I felt calmer and more peaceful, and comforted. And I feel like this was a little sign to me that my dream was real: When I was looking through my closet this morning I saw Kimberly's blessing dress hanging in the back in its little blue bag. I haven't taken it out to look at it for quite awhile. I felt drawn to pull it out and look at it. I was thinking of Kimmy, my dream and how I needed to get ready and get to her grave to water her flowers. And it ran through my mind how we planted flowers outside her window in May five years ago, and how she picked out all these beautiful colorful flowers – so many lilies, and that her favorite flowers were lilies.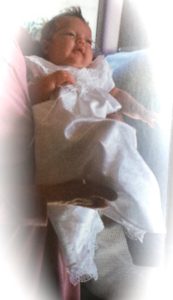 When I pulled out her little blessing gown to look at it I of course started to cry as I ran my fingers over it, looked at the subtle pattern in the smooth satin and touched the little bow. And then I noticed something I never had before. In the lace on the tiny little collar of her beautiful dress there is an embroidered pattern of flowers – lilies. I picked out a dress for her to wear when she was one month old that had her favorite flowers in the pattern. Part of why I loved the dress then was that it was unique for a baby blessing gown. Different. Beautiful and feminine, but a little more sophisticated, more like something Kimmy would pick out now, really. I flashed back to my dream when I shared Kimmy's life memories and how connected our souls were. I know that her dress was not an accident, nor was my finding it this morning. I could almost feel her looking at it with me and laughing, clapping her hands with delight over my discovery and saying, "You're welcome, Mom. See? Still here!"
Forever doesn't end.
Love you all.