*I must preface this by saying that 1. this post is a little graphic and 2. I believe in angels. Very firmly. Many of my friends and family share my religious beliefs and/or personal beliefs, and many do not.  I love you all – it makes no difference to me.  If you find any of this difficult to take in, this may not be the post for you – that's all. But I am committed to absolute authenticity here, or there is no point.  I think most of you believe in God, or at least in a higher power.  If I didn't have faith in something, I don't know how I would escape the darkness.  So I hope that all of you at least feel the flicker of the light inside of you that is your infinite and eternal worth.  It is my greatest wish that Kimmy's legacy might help to spark that flame in hearts where it has gone dim.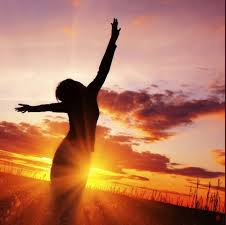 I make it through the day because I hear my daughter, often. I don't mean I hear voices in my head – I mean that I hear her, talking to me in her voice. It may sound crazy and you can take it or leave it – I have nothing to prove to anyone and frankly don't really have an investment in whether or not anyone believes me – but this voice has been familiar to me for a very long time, long before she came to earth and learned to talk. I don't know why Kimmy was different from her brothers. I love my boys just as much as I love her. Being a guardian angel is somehow just her role in our family.
I can't recall when it was exactly that I first recognized her as who she is – I know at least by the time I was ten years old I knew she was my daughter. I knew her name. I knew that she had dark blond hair and blue eyes. I knew her smile, her personality, her face, her way of being, recognized her shining spirit, loved her, and heard her voice in my heart and head often. She was always with me. So much so that I was stunned when my first child wasn't a girl. I absolutely adored Chad – loved him to pieces and wouldn't have traded him for anything. I felt the same way when Alex came along. I finally realized that this was just Kimberly's soul, her part in eternity and in our family. It didn't have anything to do with her birth order. I just had a different sort of connection with her. Maybe it was partly a gift to help me now. I don't know.
Only then, she was on the other side of the veil with her brothers and I was here with my grandparents. Now she is there with her great grandparents, and I am left on this side with my boys. I was supposed to go first, and take a turn being her guardian angel. But I guess that's not the way we all planned it out together in heaven before we came – my children, and me, and a loving Heavenly Father, and I'm sure even sweet Chris who is so much a part of Kimmy. I'm sure Kimmy knows why now, and I'm sure the rest of us will all remember why again someday too. I just wish we could remember right now.
For awhile after she left us, I stayed busy. And then I just couldn't. I finally had to open my eyes and look at the scene of devastation left in the wake of the catastrophic nuclear explosion of my daughter's death, and acknowledge that life will never be the same again. The grass, the trees, the mountains, the birds, the dreams . . . everything is gone. There is nothing but charred black remains of broken nothingness and a poisonous vapor so thick that it hurts to breathe. I just lay down on the ground and didn't want to move. I still got out of bed every day, and got dressed and wandered like a zombie through life, but the depression felt like wading through toxic sludge at midnight.
Then I heard Kimmy's voice. "Mom . . . Mom, you've got to get up. You need to break out of this. Come on, Mom." And somehow I found the strength to write about her. And bawl. And bleed. And be angry. And feel regret. And mourn. For me, for Kimmy, for her fiancé, for my boys, for her friends, for everyone who loves her. And to miss her.  Oh, how I miss her!  And to want her back. And somehow it started to help, just a little. It might seem like fingers flying over a keyboard isn't much. But I may as well be writing every word out longhand in blood.
Each raw, horrible, naked truth revealed is making me feel just a little more determined to somehow make it across this wasteland, through this dark night of the soul. Because I know it's the only way to get back to Kimmy. And I suppose some little particle of me still has the faith that my children (who include my daughter and her fiancé) can heal, through the Savior and the Atonement. And if I believe they can heal, I have to show them that I believe I can heal too. Which means I have to drag myself out of hell, even if it's on my stomach with bloody knuckles the entire way. Sounds like a ridiculous bunch of drama, doesn't it? I know. It even sounds pathetic to me. I'd give myself a terrible grade if this were an English paper. But it doesn't come close to describing how bad it feels.  As I said in an earlier post, I've lost my faith even in the usefulness of words as an accurate tool to define something so otherworldly awful.  But they're all I have.
I suppose there is some sort of sick, caustic relief at feeling like I have absolutely hit rock bottom – everything I told God I couldn't handle, I have now faced. The thing which I greatly feared is come upon me . . . (Job 3:25). I no longer fear anything. What can anyone do to me? I may still be human enough to fear dying, but I certainly don't fear death – I can't wait to be back with my daughter. I thought other things I've been through in life were hard. Nothing else even remotely comes close to losing a child. I'd go through everything else a million times over to have my daughter back. It was all nothing now. Anything else that could ever happen to me from here on out – nothing.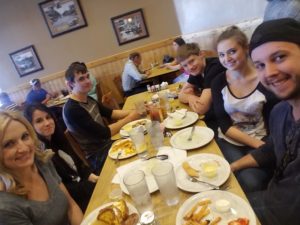 My angel girl has suddenly flooded everything with heavenlight. It's almost as though everything else in the world went abruptly dark and that light has brought an immense laser focus onto the golden treasure sitting in the center of everything. Anything that I ever thought mattered before, doesn't matter. The only things that really matter are the people I love, and being with them forever. That's it. That's all there is.
Which brings me to today, and the title of this post. I've done a lot of trudging through poison, blood-and-guts awfulness the past couple of days in an effort to finally get started moving through it. I have also focused a lot on Kimmy and how much I love her. But this afternoon in the car I heard her whisper, "Remember gratitude, Mom. You need to go home and write about all the angels, for both of us – okay? Love you, Mom." In that moment, I felt her immense gratitude. Literally. I felt just filled up with it, completely real and tangible. She is so grateful for all of the things that so many angels have done for her, and for the people she loves. I felt so full of the love that she has for so many. Because that is who Kimmy is.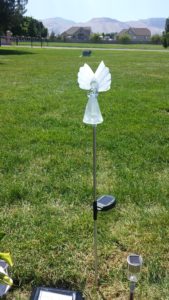 This girl keeps me going. She truly does. If I didn't feel her love all around me, every day, I don't think I'd still be here.   I do have my boys, who I am so grateful for as well.  I remind myself of that every day and they keep me going too.  I would do anything for my children. So, here I am, writing about gratitude and angels.
I don't even know where to begin. I could write a book just on this, as she is reminding me. In the days immediately following Kimberly's passing, I cannot even list the number of tender mercies that we were blessed with. I was trying to take care of things here, at home in Herriman. Chris, her fiancé, was trying to take care of things at their home, in Hurricane. We were working together, and had so many miracles. Several times I said, "If it is important to Kimmy, then we will get angel help. And if we don't get help, then we won't worry about it, because we will know it isn't that important." We wanted her to have her engagement ring and couldn't find it.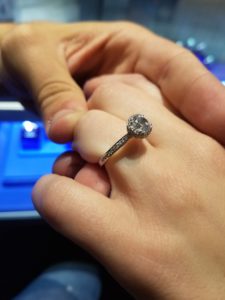 Chris was blessed to find it almost immediately as soon as we asked for her help. We were trying to get her phone back from the medical examiner so that we could retrieve her precious photos – they told us it was locked up in "evidence" and impossible to get to. Short story – we got it. I had just moved and all of our photos and things I'd saved from Kimmy's childhood were buried in a storage unit – we were so blessed to find nearly everything I wanted to find. I was blessed to find a beautiful painting to display at her funeral that brought a whole lot of comfort. The florist who had just taken Kimberly's order for wedding flowers was kind enough to do her funeral flowers instead. We placed her bridal bouquet on her casket – heartbreaking, and yet tenderly, poignantly beautiful. Those were her flowers.  She had picked them out herself, and this sweet, kind lady put them together exquisitely for her.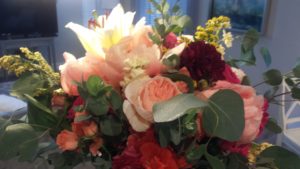 I felt Kimmy with me everywhere I went as I searched for the sacred final outfit that I would ever buy for her in mortality, and felt her help in finding what she would want, as well as some precious extra things of sweet significance. I felt guided to the right funeral home – the people there were such a blessing to us in so many ways. One thing that was terrible for me was choosing a casket to put my little girl in. I was falling apart over that and finally had it narrowed down to 3 choices. I whispered, "Kimmy, I can't do this one. You've got to help me, Boo." I suddenly felt drawn to one in particular, and then realized the model name was "Kimberly."
I could go on and on and on with tender mercies and large miracles. Some of you may dismiss these things as "coincidences" or silly. Even if I were only operating intellectually, I far prefer Albert Einstein's view on life: There are only two ways to live your life. One is as though nothing is a miracle; the other is as if everything is. But Kimberly's presence and help was too bright and overwhelming to ignore. These things went far beyond intellectual.
And then there were the angels. I am certain that she had numerous angels with her to help her from her side of the veil – I know my grandparents, all four of them, were with her. I'm sure many others were too.
And the angels in human form were too many to even begin to list, which is why I won't try. I'm afraid I would accidentally leave someone out. You all know who you are. Thank you, thank you, and thank you. May you be blessed for everything you've done, and feel Kimmy's love until the day she can thank you herself in person.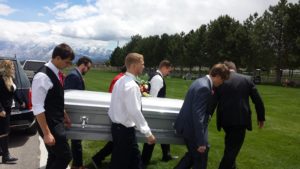 Some of our longest and dearest friends stepped in to help with things for her viewing and funeral, helped me, helped my boys, and helped Chris. Chris's family was there for him and for us. My family was. My parents and siblings were there. Nearly every single one of my aunts and uncles came, some from several states away, as well as many cousins. Kimmy's aunts and uncles and cousins came. So many friends of Kimmy's, Chris's, her brothers, mine, and our family's came to be at the viewing or the funeral or both. Some of Kimmy's dear friends came from far away, or at great inconvenience, to be there for her. Her friends were all so willing to do anything we asked any of them to do for her, and when we ran out of things to do her friends were just here – which was more than enough.  Members of our church stepped up to help, and provided lunch for family and friends who had traveled. My employer and supervisors were very kind and gave me time off to deal with everything I needed to, both practically and emotionally. I really am still in awe at how many truly amazing, wonderful people both Kimmy and I have been blessed to have in our lives.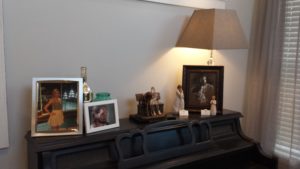 So many people gave us sweet and thoughtful gifts to comfort us and remind us of Kimmy, or quietly and generously donated money to help with her funeral costs. People just appeared when we needed them. We received cards, and hugs, and piles of food – and most of all, love. There were more flowers than you would see bursting out of a flower shop. If one can feel joy in the midst of such grief, I did at knowing that my baby girl was surrounded by so many gorgeous flowers that I know she loved, and beautiful people whom she loved even more.
Chris came up here as quickly as he could to help with funeral arrangements. He was probably the biggest angel of all. It was immensely comforting to have him here, along with my boys, and my son's girlfriend – all of us who loved Kimmy most, just for all of us to be together during those first most difficult days. Chris, my boys, and my brother, helped me go through the storage unit and bring piles of pictures and keepsakes home to sift through. Chris and Kimmy's dear friend, Amy, put together a beautiful DVD honoring her. We showed it at her viewing and in the hallway at the church before the funeral. They put hours into that DVD. The 3 of us stayed up nearly all night one night, going through pictures, laughing and remembering Kimmy – so healing. Sweet Chris put so much of his time and his heart into that DVD for his girl. She adores him for that. So do I.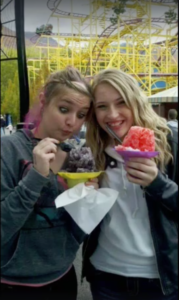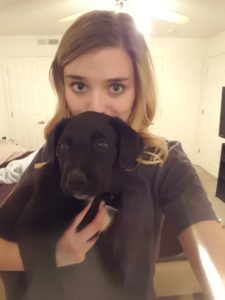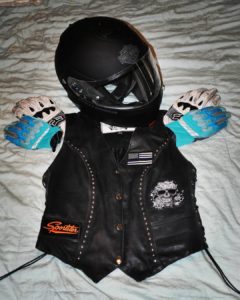 He had roses delivered to me for Mother's Day that first most difficult weekend, and wrote on the card, "Love your girl and your girl's boy." He said, "Kimmy would have wanted me to do that." I know she would have. That's who she is. And who Chris is. But so immensely sweet, and soothing to a mother's broken heart. Alex and Renee gave me a beautiful necklace with an angel wing, and a heart that says, "Love" and has a "K" on it. I wear it every day.
Chris went to the funeral home with me to help finish dressing our girl. So difficult for him, I know, but he wouldn't have missed it. He helped me zip up her white dress, and put on her angel necklace – I bent down and touched it to my angel wing and kissed my little girl. We will both always have our angel necklaces to help keep each other close. We put white slippers on her feet. He picked out her earrings and her favorite nail polish. He wrapped the sweet little rhinestone doggie paw bracelet around her wrist, and put her engagement ring on her finger. I did her nails, and touched up her makeup and made sure she looked perfect – all the things I always told her she was supposed to do for me at my funeral. How ironically, horribly, heart-wrenchingly backwards.
Chris stood by me while I curled my little girl's hair for the last time, and ran my fingers through it, and remembered all the thousands of times that I had done her hair for her. I cried, thinking how her hair is the same color, the same texture, the same feel as mine. Only young and beautiful – not brittle or streaked with gray. I wanted to trade her places so badly. Even then, knowing that it was far too late, I asked God to please, please, let me trade her places. She had so much left to live for.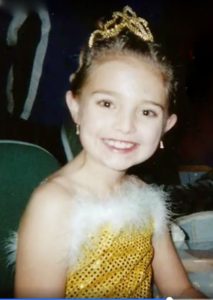 I remembered her sweet little two-year-old self saying, "Thank you, Mommy" after I'd finished her hair, her three-year-old little self telling me she wanted a "princess bun," her five-year-old little self declaring she wanted to cut off all those beautiful thick curls – and me crying as I did it, but honoring her choice. All the dance recital hair and prom hair . . . and how we'd stood in front of the mirror and tried to decide whether she should wear it up or down for her wedding only a few weeks before. I don't know if I would have made it through doing all those things for her without Chris. Although her brothers and her grandparents are a close second, we are probably the two people in the world who miss her most.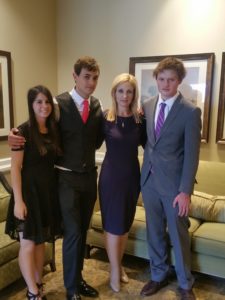 Chris, Ryan, Alex, and his girlfriend Renee, and some of our sweet friends helped us set up for Kimmy's viewing. We put out pictures of her, mementos of her, memories of her entire life – we tried to turn it into a loving tribute to her, and make it as happy and bright and positive as we could, a celebration of Kimmy and her beautiful life. I feel like we succeeded. I think she liked it. We hung up the wedding dress that she will never walk down the aisle in during this lifetime, put out her engagement photos with her love, her baby pictures, photos of her with her brothers and her family, dance trophies, things she had crocheted or sewn or painted, her honors awards from high school, her doggie mom portraits, her motorcycle gear, the sweet angel wing motorcycle stickers that Chris and his friend had designed in her honor, and as much of her as we could cram into that building.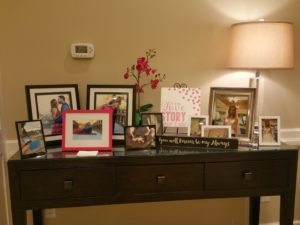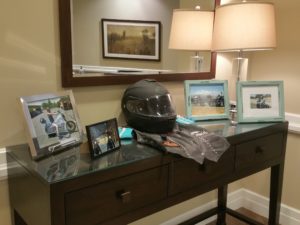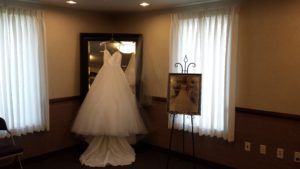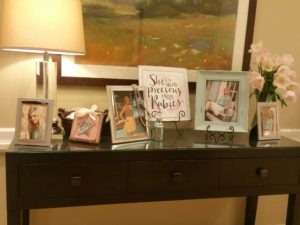 Chris spoke at Kimmy's funeral. So did her brother, Alex. They, and her other brothers – Chad and Ryan – were pallbearers, along with some of her good friends. Kimmy's brothers have also been angels. They keep me going. And Renee, my adopted and only daughter now.
After the funeral was all over and things slowed down and people went back to life, I went home with Chris to go through Kimmy's things, pack them up, and bring them home. Ouch. I knew if I didn't do it fast, while I was still numb, I'd never be able to. I also knew it would be just too painful for Chris to live with her all around him, but not. I love that boy for loving her, for still getting up in the morning every day, for taking care of their dogs and being the best, most devoted dog dad on the planet, even when things are so hard.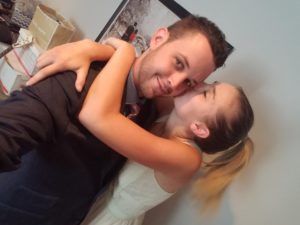 We saved the room for last that Kimmy died in.  I had a sick, horrible feeling in the pit of my stomach, picturing her lying there on the floor, alone – I felt like I might throw up or collapse in hysterics when I entered that room. I didn't know how Chris could be so brave and my heart hurt that he had to find her.
Instead, before I even stepped into the room I felt light spilling out. From the moment I entered I felt like I was on hallowed ground. I was filled with reverent awe, an overpowering feeling of peace and light. The room was absolutely flooded.  I don't even know how to begin to describe it.  This feels almost too sacred to share, and yet I am – I don't know why.  Maybe it will help another mother who reads this.  I saw my daughter resting peacefully in the chair, with angels all around her, saw her leaving in light brighter than my human mind could comprehend, and felt that wound of terror in my heart simply healed instantly and completely. My most gripping trepidation was that she had died in darkness, in terrible pain or suffering, in horrific fear, alone. Although I had been reassured repeatedly by multiple professionals, in that moment I knew for myself that she really had left quickly, peacefully, painlessly, surrounded by angels, love and light, and that she was in heaven and just fine. I was so thankful for that gift of grace. Chris couldn't talk about it then, but I didn't need him to. When I told him later what I had seen, he confirmed that he had found her in the chair. Again, I was so grateful. For angels. In heaven, and on earth. And for a loving Heavenly Father who loves my daughter even more than I do, as difficult as that is for me to comprehend, and who also loves me enough to give me that gift of grace in reassuring me that my beautiful girl is well taken care of, and in putting my worst fears to rest. (*Please get help if you feel depressed or hopeless. I feel nothing but compassion and love for my daughter and I am also saying that suicide is NOT the answer. Please stay. Talk to your family, or a friend. Don't leave the arms of your loved ones empty. I so wish that Kimmy could have read a post like this and found hope, or realized that it was okay to ask for help and say how despairing she truly felt, or just felt her own incredible worth and come to the awareness that all she needed to do to make the world a better place was to keep breathing. I hope that her story might help save someone else).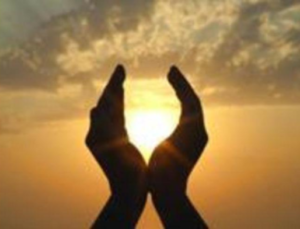 I have been blessed to talk with mothers and fathers of other angel children, which has brought me a great deal of hope and consolation. Some of these children left as my daughter did – far too many of our children are leaving in this way, which is a large part of the reason that I'm trying to make this a more open and honest and real point of awareness; and some left in another way. Most were within a few years of her age. In at least a couple of these instances, the parents have shared my beliefs and have said something akin to, "Now that we have talked, my child will seek out your child to help her; or because you and I our friends, I imagine our children are also friends in heaven." It has brought immense peace to feel reassured that not only does my daughter have family in heaven who love her, but she also has friends, including beautiful young women her own age who understand how she feels right now and can progress with her – and that they can help each other.
I have had angel friends reach out to help my boys, or offer to help. Angels who have listened to me, or offered to. Many angels who pray for us. New angels who have recently lost people with whom I have made friends, some of them Kimmy's friends as well. Many of Kimmy's angel friends have sent me pictures or messages or shared stories or memories of Kimmy, or dreams or experiences they've had since she's been in heaven. These are so precious to me, and to her. While I know that she is still here, it is a huge blessing to be reminded that others know as well.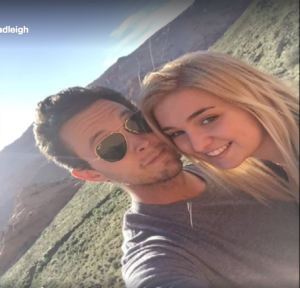 At the end of Kimmy's DVD Chris posted a quote that we are also having engraved on her monument. I believe it is a fitting reminder here of who she is, and who so many of you are as well.
To become an angel, one needs to become love.
They are one and the same, and love is all there is. So much love and gratitude to all of you.
Love,
Candie and Kimmy
(This post is definitely from both of us)